Extension Garage Door Spring Replacement
Some people are under the impression that extension garage door springs do not have the same tension as torsion springs. This is totally wrong. Extension springs shrink when the door is open and stretch when the door is shut. In many cases, the coils hardly stretch manually since these springs hold tremendous tension on them. So, when the door is closed and they are in full extension, they are actually under enormous tension that will allow them to lift the door.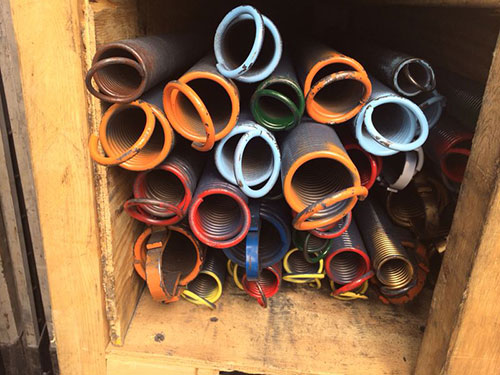 The springs will also keep the door open and this is one of the first things we check when we are called to service overhead door springs. With such good training as ours at "Garage Door Repair Thornwood", we can simply tell whether the springs have the power to hold the door steady. When they start getting weak, we replace them. This way, we save our customers money from constant repairs and from possible accidents.
We replace extension springs properly

Extension springs are attached to the garage door track on one side and are connected with the pulley on the other side. Our main goal is to disconnect them at the two ends without touching the cable and install the new one. Though, before we reach this final point, we primarily disengage and disconnect the door openers. We make sure the door is open all the way and we put C-clamps at both sides of the door to make sure that it won't fall down. When the door is in its open position, the tension of the springs is released. It still needs attention, but our technicians are great experts.
We also replace both extension springs. Replacing just one of the two won't serve the client much since the door's movement will be uneven and won't be fixed with regular spring adjustment. We pay attention to such details to ensure the good operation of the door. Get in touch with our teams for spring replacement!